Bonus Magazine Subscriptions
Included with OGA Membership is a one-year subscription to Golf Digest (a $15 value​). Additionally, members will also receive Pacific Northwest Golfer, which is a quarterly publication produced by the PNGA.

Magazines can only be delivered to OGA Members who have an up-to-date mailing address in their GHIN profiles.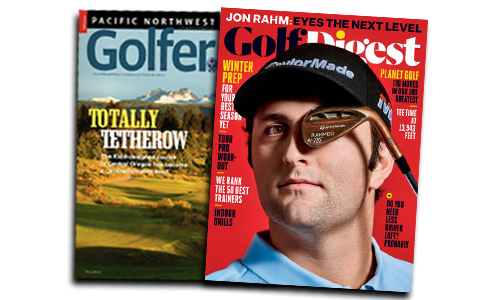 MAGAZINE DELIVERY EXPECTATION
It can take six-to-eight weeks from membership signup date to when the Golf Digest Magazine subscription begins arriving. Members must have an up-to-date mailing addresses in GHIN to receive magazines. Golfers can edit contact information at GHIN.com.
CHANGE OR CANCEL SUBSCRIPTION
Only the individual subscriber can make changes to mailing address, number of copies, etc. Each magazine mailing label includes a unique 10 digit account number that is needed to amend the account. Follow the instructions available below.
REBATE FOR EXISTING SUBSCRIBERS
If you were already paying for a subscription to Golf Digest prior to becoming an OGA Member, you may be eligible for a rebate. If you do not want a subscription to Golf Digest magazine and prefer instead to receive a refund, please print and fill out the form.
SUBMIT A GOLF ACHIEVEMENT
Members who record a hole-in-one, double-eagle or shoot their age can submit that achievement through the link below. The OGA will send you a certificate to commemorate that moment of glory.